The very latest version of our flagship folding electric bike, the Wisper 806 has received a number of additions to help you tailor your folding e-bike to your own personal requirements. The Wisper 806 folding ebike is the perfect option for campers, caravaners, boating enthusiasts, commuters or for those with restricted storage space. With their very low step over height the Wisper 806 e-bike is also ideal for the rider smaller in stature, however the extensive adjustment range on the seat post and handlebar stem means the bike can easily be adjusted for the comfort of taller riders.
The 806 Folding ebike is a very sturdy long range e-bike, with our superb locking mechanism locked you will not notice you are on a folding bike, there is absolutely no frame twist feel when riding. This is not a bike for hopping on and off the underground.
The Wisper 806 is a Folding Electric Bike that boasts excellent quality and unparalleled reliability. The highly renowned motor and fast-charging battery provide smooth power delivery when you need it most. You can tailor your Wisper 806 folding ebike to your own preferences, choosing from a range of colours, motors and batteries.
The result is a powerful, collapsible electric bicycle that will carry you through the city or countryside with minimal effort. When you're not using your bicycle, just unclip at the hinge and store until you need to ride your bicycle again. Lightweight and durable, the Wisper 806 Foldable Electric Bike can be carried on and off public transport with ease. Touring in a camper or caravan? Just fold your bike away until you want to explore once more!
Wisper 806 20 Folder 375Wh BlackYear-2021Frame Size-16Wheel Size-20
Technical Specification
Motor
Wisper High efficiency,
250W hi torque brushless motor
Lithium Battery
Medium range 375Wh


Assisted range
Total load, terrain, road surface, tyre pressures, speed, power setting used, wind conditions, and motor power all have a huge bearing on the bikes range.
With this in mind, you may expect to achieve the following AVERAGE ranges. Due to the number of outside factors affecting folding electric bike ranges, our published ranges are estimated based on our experience and are not guaranteed.

375Wh battery 15 to 30

Controls
Wisper Back lit LCD display
Bicycle weight
375Wh: 21kg


The 806 Folding bike is a sturdy long range ebike, with our superb locking mechanism locked you will not notice you are on a folder, there is no frame twist feel when riding. This is not a bike for hopping on and off the underground.
eBike Features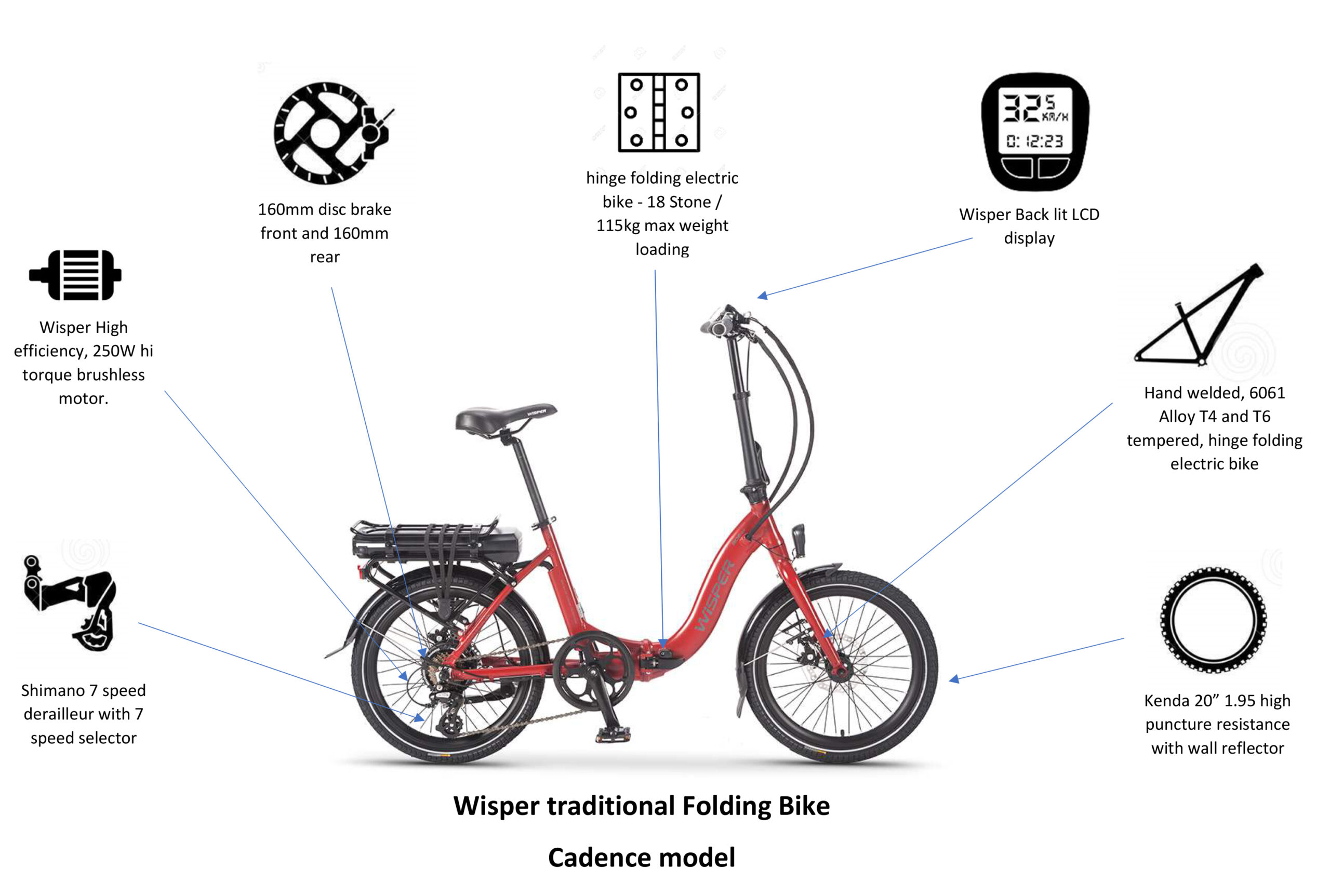 Sizing and Dimensions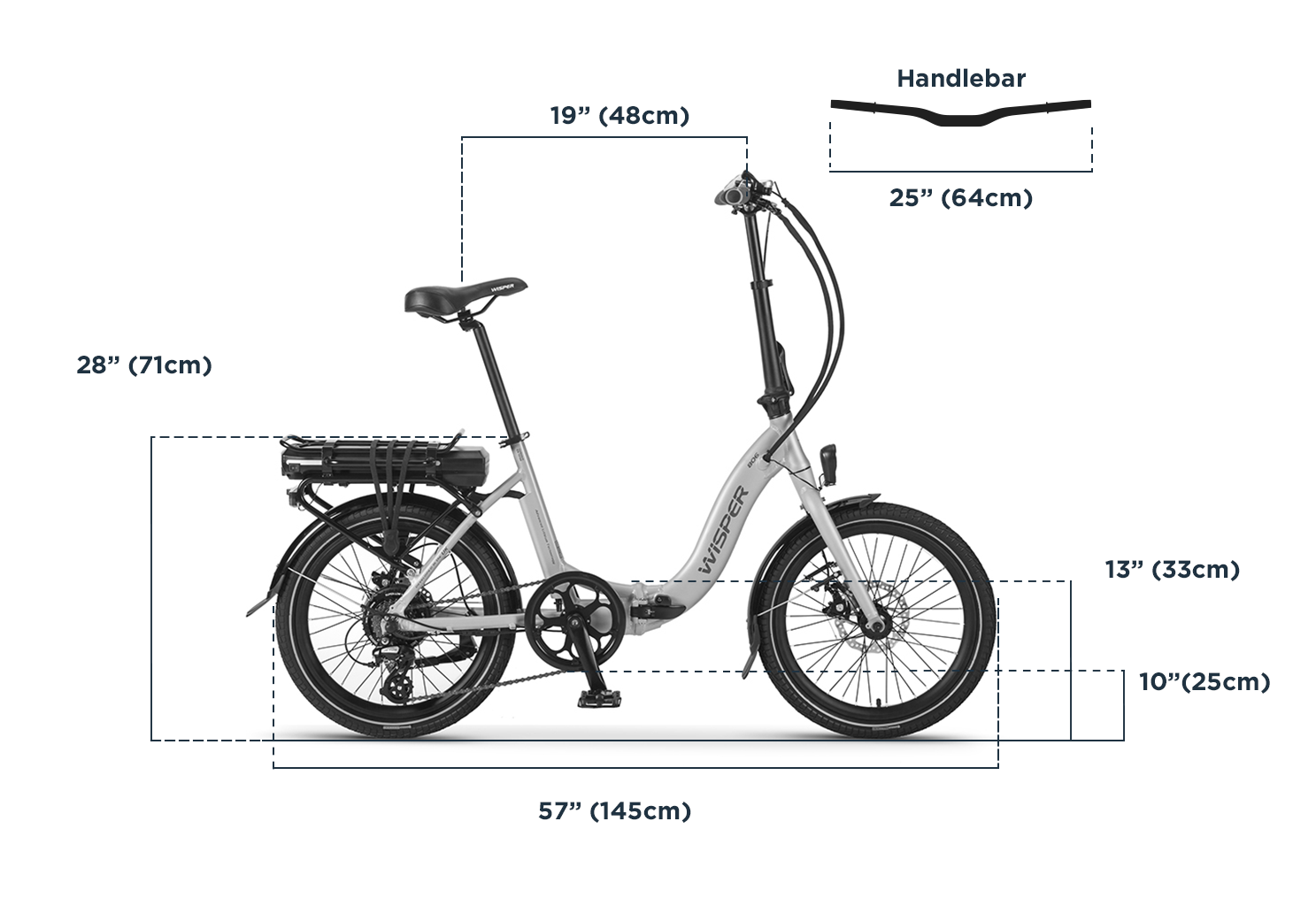 Frame
Hand welded, 6061 Alloy T4 and T6 tempered, hinge folding electric bike
Frame size
16" 40.6cm
Bike Colour
Black, Blue, Red
Forks
Wisper light weight alloy forks
Saddle
Wisper comfort
Kick stand
Black anodised alloy
Gears
SHIMANO 7 speed derailleur with 7 speed selector
Brakes
180mm disc brake front and 160mm rear
Wheels
Alloy double walled 20" x 1.5"
Tyres
Kenda 20" 1.95 high puncture resistance with wall reflector
Mudguards
Black Full length, shatterproof
Lighting
Front: 15W LED super bright
Rear: 36V light, power from bike battery
Rear Rack
Wisper's unique rear battery rack, certified to 25kg
Max Weight Loading Including Luggage
18 Stone / 115kg
Bike Dimensions When Folded
D50cm x W100cm x H70cm
Wheelbase when unfolded 102cm
Please note: Manufacturers can sometimes change the specification of the products from time to time.
| | |
| --- | --- |
| Colour | 375Wh-RED |
| Sizes | 16 / 20, |
| Brand | WISPER ELECTRIC BICYCLES |
| Model Year | 2021 |
| Barcode | 748367936678 |
Free UK Delivery on orders over £50

All of our UK Customers can select our FREE standard delivery option on any order over £50 (except exclusions). Learn more about J E James delivery services. Click here
Bike build & delivery
We are proud to say that all of our bikes are pre-built and go through a rigorous inspection procedure before the bike arrives at your doorstep. Bike are partially dismantled for shipping and are delivered with some assembly being required. To help with assembly we have created our helpful assembly guide. Click here to view assembly guide.
Click & Collect
J E James Cycles Click and Collect feature is a great way of securing your product before coming into store selecting your nearest J E James Cycle branch for free. Once your product is ready for collection your chosen J E James Branch will contact you via text or telephone. Meaning you do not make a wasted trip. Please do not come into store until you receive this message. Learn more about J E James Click and Collect. Click here
International delivery
We have many happy customers based outside of the UK because we try and keep our delivery charges to minimum. The best way to calculate how much delivery of any item via our website is to add products to your cart and proceed through the checkout process, please then enter your delivery details. Our website at this time will calculate the cost of delivery to your country. Orders delivered outside of the EU are exempt from VAT. Learn more about J E James Cycles international delivery. Please click here.
Easy 30 Day Returns
Our main aim is to make sure you are happy with your purchase You can contact our returns department directly via email: [email protected]
Learn more about our returns policy here: Click here to view returns policy